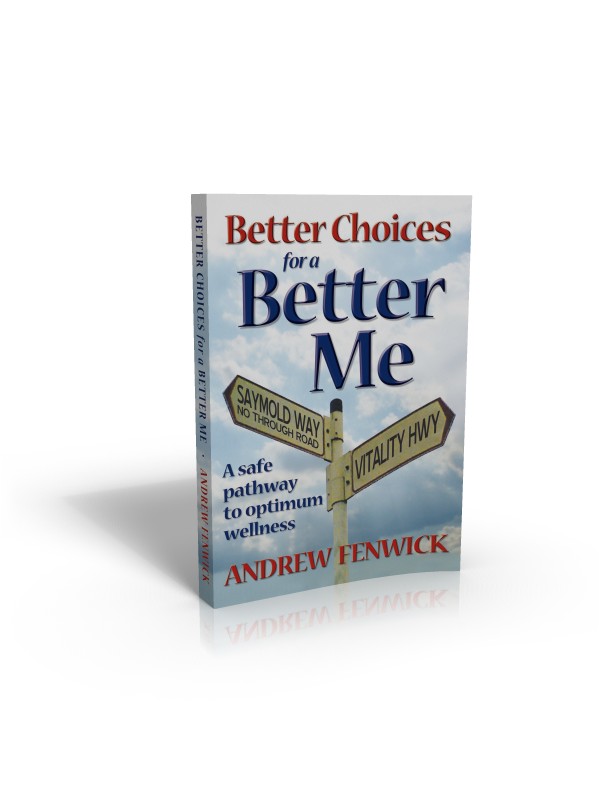 Andrew Fenwick's Book NOW AVAILABLE HERE!!;
Better Choices for a Better Me
(Select the link below for the format you desire)
Have you ever wanted to know more about how your body works, how to get the best from it, and what choices you can make that will immediately start the ball of optimum wellness rolling for you?
'Better Choices for a Better Me' has been written to provide just that. An easy to read and positive approach to achieving long lasting youth and being free of chronic illness.
Bringing together over 20 years of research and clinical experience on the subject of 'natural health', the concepts that work and some techniques to ensure you can succeed.
FOR JUST $17.00, plus postage and handling to anywhere worldwide, you can start taking the safe and simple steps to being noticeably healthier and happier. The book is our first connection, where the recipes for attitude change, lifestyle change and lasting change come together. A foundation guide to start your individual quest for a 'Better Me'.
For a HARD COPY MAILED TO YOU CLICK HERE
For a DOWNLOADABLE COPY CLICK HERE 
For a KINDLE COPY CLICK HERE
For a Book Bundle and VIP Support Subscription CLICK HERE
(The Book Bundle and Support Subscription includes 3 books, the 6 part course, VIP invites to online training events, a private community page on Facebook and opportunities for discounts on future products and events)
To support you in that quest, as part of your book purchase you have access to a 6 part online video coaching course which will focus on the key steps to take to achieve the success we all wish for when starting a new project. (make sure you subscribe for additional hints, tips, recipes, health news, study results and special offers)
Please click here to subscribe to my ezine; 'Better Choices' via the connect page, that way I can let you know when the course is ready to download and when other special offers are available to help your journey to optimum wellness and happiness.